---
Veritas Dovetail Saw and Magnetic Guide
Hand-cut dovetails remain the mark of the skilled cabinetmaker and a feature that buyers look for in high-end furniture. Veritas has developed a guide and saw system that lets amateurs achieve professional results. The system also allows the seasoned expert to produce dovetail joints more quickly and with less effort. The Veritas Magnetic Dovetail 1:8 Guide, clamps in position and holds the saw...
Veritas Magnetic Saw Guides
This anodised aluminium Veritas Magnetic Saw Guide helps keep your saw on the right track and perpendicular to a workpiece. It provides a registration surface about 32mm tall. It is particularly useful when crosscutting tenon shoulders or the edges of a dado, which is where you want your saw to cut straight and true. You can hold the guide onto your workpiece with a hand or secure it with clamps. The...
---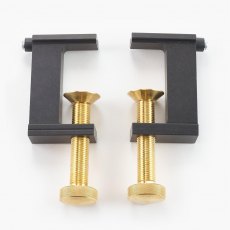 Veritas Saw Guide Clamps
These Veritas Saw Guide Clamps are 50mm capacity clamps are anodised aluminium with solid brass screws and pads. They fit into the T-slot on the underside of the saw guide leaving the upper surface clear. These clamps ensure the guide is secure and firmly held in place resulting in a higher degree of accuracy. Note they can also be used with the magnetic saw guide.