---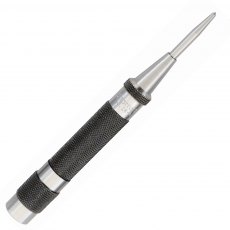 Starrett Automatic Centre Punch
This all-steel Starrett automatic punch has a mechanism that automatically strikes a blow when downward pressure is applied. This punch can be used in many materials, including wood and you can adjust the force of the blow by turning the knurled cap. Once set to the desired force, the force will remain constant so the marks will be the same depth/size. The point can also be removed should it ever...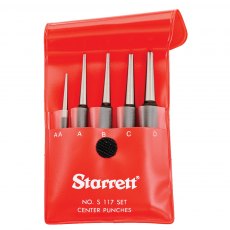 Starrett Centre Punch Set
These Starrett 117 Centre Punches are made of specially selected steel which has been hardened and tempered which gives them good longevity. They each have a knurled finger grip and the points are ground at an angle to give best results for each size. The set includes the following sizes in a red vinyl case: 1/16", 5/64", 3/32", 1/8", and 5/32" (1.5mm, 2mm, 2.5mm, 3mm...