Veritas Detail Rabbet Plane
Product Description

The detail rebate plane is primarily useful for small trimming tasks. It is handy for getting into tight spaces, especially cleaning up the bottom of dados or grooves. The plane's body is ductile cast iron, 75mm long, accurately machined and ground. The sides are flat and square, allowing you to use the plane on its side for trimming tenons. The low 15-degree bed angle combined with the 30-degree blade bevel provides a 45-degree cutting angle exceptional for end-grain cutting performance. The plane has a fixed mouth and features a shavings deflector to help prevent the mouth clogging up. A solid brass, one-piece lever cap/palm rest holds the full-width blade in place. The lapped blade is made of O-1 tool steel.

Normally available in three widths, 6mm, 8mm and 10mm.

Customer Reviews
By
Martin Gamble-Salt
on
5th December 2022
"I bought this tool (10mm version) for gentle, precise trimming of smaller surfaces and joint areas (like really small shoulders where my shoulder plane would be just too big to register properly with the wood). It really is very small, but still fits nicely and comfortably in the handle. Very well made with quite good heft for the size. Blade has no precision adjuster - instead you just loosen the retaining screw and manually (carefully) shift the blade in/out left/right, then re-clamp. Works fine but you need great eyesight to set the blade precisely! Best of all: it works GREAT! Smooth, precise cutting, nice shavings. I find I am really using it a lot, especially for cleaning up awkward areas, and for finishing prep (arris removal etc.) Really well made, great quality tool. A bit specialist, but if you are looking for an alternative to chisel work for cleaning up joints etc, this is it."

Collect in Store
This item is available for collection.
Home Delivery
UK mainland delivery from £4.50
You may also like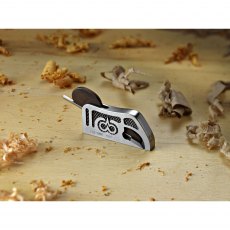 People who bought this also bought
---
---
---
---
---