---
Fundamentals of Inlay: Making Ornamental Bandings
by Steve Latta In his third inlay video, Steve Latta demonstrates in detail how to make your own ornamental bandings. Whether you are trying to reproduce an antique banding, working in a traditional motif or wanting to create something to accent a modern style, this video will show you how to go about it with a few simple tools and jigs. 107 Minutes, Lie-Nielsen Toolworks Productions, 2010. ...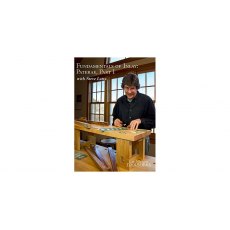 Fundamentals of Inlay: Paterae, Part I
by Steve Latta Paterae has a rich and diverse tradition in the Federal Style of American furniture design. These oval-shaped ornaments were often used to give decorative flair to the upper portion, or pilaster, of Federal table legs. In this fourth DVD with inlay master, Steve Latta, we explore the tools, materials, and techniques to create eight specific Paterae designs. 141 minutes, DVD....