---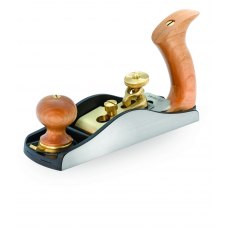 Lie-Nielsen Low Angle Smoother
The Low Angle Smoothing Plane is based on the rare Stanley 164, and is essentially a shorter version of the Low Angle Jack Plane - with an adjustable mouth, and a massive 2" (5.08cm) wide, 3/16" (4.7mm) thick blade, set at 12°. However, this tool is only 9½" (24.1cm) long and weighs 3¾ lbs. It is called a Smoothing Plane because of its size (the same as the Lie-Nielsen...
Lie-Nielsen No.62 Low Angle Jack Plane
The Lie-Nielsen No.62 Low Angle Jack Plane. What is not to like? You take the most popular and useful jack plane and bed it at a low angle (12°). This makes the most versatile group of planes even more versatile. Comes with a 2" (50mm) wide A2 steel blade which is .175" (4.5mm) thick. From the box it has a 25° bevel, but it is worth sticking a secondary bevel of 5° on it if...