Roubo on Marquetry
Product Description
By Donald C. Williams, Michele Pietryka-Pagán & Philippe Lafargue
"To Make as Perfectly as Possible: Roubo on Marquetry" is the first English-language translation of the most important woodworking book of the 18th century.
A team of translators, writers, woodworkers, editors and artists worked more than six years to bring this first volume of A.-J. Roubo's work to an English audience. (Future volumes of Roubo's other works on woodworking are forthcoming.)
While the title of this work implies that it is about marquetry alone, that is not the case. "To Make as Perfectly as Possible" covers a wide range of topics of interest to woodworkers who are interested in hand-tool woodworking or history.
In addition to veneer and marquetry, this volume contains sections on grinding, sharpening, staining, finishing, wood selection, a German workbench, clock-case construction, engraving and casting brasses.
But most of all, "To Make as Perfectly as Possible" provides a window into the woodworking world of the 18th century, a world that is both strangely familiar and foreign.
Roubo laments the decline of the craft in the 18th century. He decries the secrecy many masters employed to protect craft knowledge. He bemoans the cheapening of both goods and the taste of customers.
And he speaks to the reader as a woodworker who is talking to a fellow woodworker. Unlike many chroniclers of his time, Roubo was a journeyman joiner (later a master) who interviewed his fellow tradesmen to produce this stunning work. He engraved many of the plates himself. And he produced this work after many years of study.
The Lost Art Press edition of "To Make as Perfectly as Possible" is printed to high standards rarely seen in the market today. Printed and bound in the United States, the 264-page book is printed on acid-free #60-pound paper in black and white. The pages are Smythe sewn so the book will be durable. And the cover is made from heavy 120-point boards covered in cotton cloth. The book is 8½" x 12".
In addition to the translated text, essays on the text from author Donald C. Williams and all of the beautiful plates, "To Make as Perfectly as Possible" includes an introduction by W. Patrick Edwards of the American School of French Marquetry, an appendix on the life of Roubo and a complete index.
Collect in Store
This item is available for collection.
Home Delivery
UK mainland delivery from £4.50
You may also like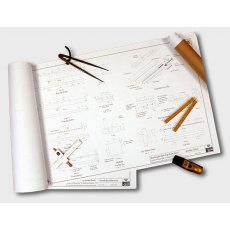 People who bought this also bought
---
---
---
---
---