Parts and Accessories for Veritas String Inlay Tool System
Product Description

Used much like a marking gauge, this inlay tool lets you accurately cut narrow grooves in a workpiece as well as neatly slice fine strings from a sheet of veneer. Its interchangeable blade system lets you quickly swap blades to suit the activity.

The hook-shaped blade is designed to cut grooves. Used in a sweeping push-pull motion, it has outlining spurs on one side of the blade to score the groove edges, and a cutting edge on the other to remove material. The result is a very clean, defined groove with no tear-out.

To slice strings of consistent width, the bevel-edged, spear-point blade is used for cutting in either direction. The blades can be offset up to 3¼" from the brass fence (or up to 9¼" with the optional 10" guide rods). Posts projecting from the fence let you pivot the blade into the work when starting a cut, and also serve as limiters to control cut depth (you can remove the posts to attach a custom radiused wooden sub-fence when working with a curved-edge workpiece).

By replacing the cutter head with the optional pencil holder, you can draw a design on your work exactly as it will be cut. In addition to providing a line to follow with the cutter, it serves as a dry run to preview how the design will look on your workpiece. The optional compass centre, used in lieu of the fence, lets the cutter head or pencil holder make circles and arcs with radii from 3/4" to 3¾" (up to 9¾" with the 10" rods). While not strictly required, using a pin awl (available separately) to define the centre mark for the compass head makes it easy to position the compass on the workpiece.

The basic inlay tool system includes the cutter head, a brass-faced fence and two blades: a 0.032" groove blade and a slicing blade. An additional cutter head (without blades) can be purchased, letting you keep a second blade ready to quickly switch from grooving to slicing or from one groove size to another. The compass centre and pencil holder are available separately or in combination with the basic system.

Optional 0.025" and 0.040" groove blades, as well as 10" long steel guide rods, are available separately. All blades are spring steel (hardened to Rc45-50) and double ended; when one edge dulls they can be flipped to expose a second sharp blade.

An excellent tool system for layout, cutting and fitting of string inlay. Made in Canada.
Collect in Store
This item is available for collection.
Home Delivery
UK mainland delivery from £4.50
You may also like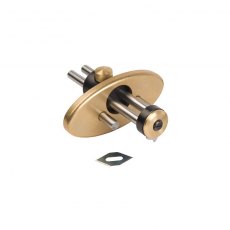 People who bought this also bought
---
---
---
---
---