---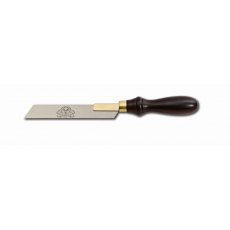 Thomas Flinn Pax Flexible Flush Cutting Saw 20tpi
The Pax Flexible Flush Cutting Saw has a very flexible alloy steel bade which cuts on the pull stroke. As it has no set, this saw is excellent for use in cutting dowels etc. as you can get the saw right to the edge with out leaving a very smooth surface. The saw has a brightly polished brass back and a Walnut handle. Blade length 6". 20tpi as standard. Individually blister packed.
Veritas Flush Cutting Saw
Traditionally used for the rapid trimming of plugs and dowels flush with a surface, the Veritas flush cutting saws can be used where you want to cut off a projection without damaging the surrounding or adjoining face. This is possible because the teeth are set one way only The 22 tpi Japanese tooth-pattern blade cuts aggressively (on the pull stroke), but does not mark the surface that it is...