---
Kitchen Think
A guide to design and construction, from refurbishing to renovation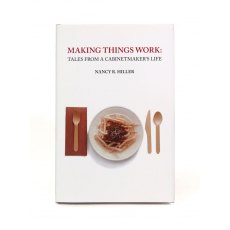 Making Things Work: Tales From a Cabinetmaker's Life
By Nancy R. Hiller Furniture making, once a basic way to earn a living through an arrangement between makers and clients, has been discovered, like a rosy-cheeked girl plucked from a dairy farm in Devon and made over into a London model For many of us, making furniture and cabinetry is still a way to earn a living, however marginal. We may do what we love every day, to paraphrase the marketing...
---
Shop Tails: The Animals Who Help Us Make Things Work
By Nancy R. Hiller In this singular collection of essays, Nancy Hiller relates the ways in which non-human animals – some companions, others wild or raised on farms – have provided warmth and comfort, prompted laughter and offered examples of courage or composure in the face of distressing events. "Shop Tails" is a loving tribute to the animals whose lives have been intertwined...