Auriou 9'' Curved Drawknife

Item: G0645031122035

On Order email me when in stock
Age Restricted Item
To purchase this item you are confirming that you are over the age of 18 and it will be delivered / received by an adult. We will verify your age before dispatching the order, this might involve us contacting you.
Product Description
Auriou's high quality, hand-forged tools are well known to discerning woodworkers, Famous for their hand stitched rasps and rifflers Auriou are using their small team of highly skilled artisans to produce a small range of tools to balance their portfolio of tools. Launched in autumn 2010 this large, curved-blade draw knife is sure to become a favourite in green woodworking circles.
The 9" long curved blade has a gentle radius and an effective blade angle that gives fast, controlled cutting. Turned 5" French walnut handles with brass ferrules are spaced 13½" apart. There is a slight splay to the handles (about 8 degrees) which makes the action of drawing the knife toward you more comfortable (of course there are dozens of views on this but based on feedback received on their prototypes and the study of old designs Auriou decided this was the best compromise). The draw knife comes honed and ready for use. Weight 0.5 kgs (1.2 lbs).
Hand forged at Forge de Saint Juery, France, home of Auriou Toolworks.
Collect in Store
This item is available for collection.
Home Delivery
UK mainland delivery from FREE
You may also like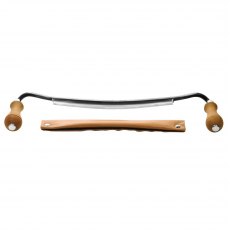 ---
---
People who bought this also bought
---
---
---
---
---